Pinky is 5 years, Chaos is 35 months, Wild One is 15 months
It's been a really busy week celebrating Dr. Seuss! Read along to see what we did each day this week or click the button below to see all of our posts from the week!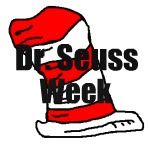 Day 1:
We read Did I Ever Tell You How Lucky You Are and The Cat in the Hat Comes Back. We made Thing 1 and Thing 2 pencils, made a watercolor painting of the Cat in the Hat, and played a hat game with Wild One.
Day 2:
We read Horton Hatches the Egg and watched a video of a robin hatching from its egg. We "hatched" some plastic eggs with Wild One.
Day 3:
We read Sneetches and Bartholomew and the Oobleck. We made our own oobleck, pretended to be sneetches, and played a color/shape sorting game.

Day 4:
We read And to Think That I Saw it on Mulberry Street and One Fish Two Fish Red Fish Blue Fish. We made up our own tall tales, did Goldfish math at snack time, played with fish felt boards, and played a rhyming matching game.
Day 5:
We read The Lorax and The Foot book. We painted footprint fish, played a shoe game with Wild One, made our own Truffula tree centerpieces and learned about water pollution first hand.
Day 6:
We read The Shape of Me and Other Stuff and Oh, The Places You'll Go. We traced Pinky and Chaos to make giant drawings, played with a shape sorter with Wild One, and played 2 homemade games - a movement game and a good choices game.
Day 7:
We ended the week by reading Green Eggs and Ham. The kids had a great time role playing with their felt green eggs and ham.
Not feeling done yet? Check out what we didn't have time for (but bookmarked for NEXT year!)
There's a Wocket in My Pocket art project from Teach Kids Art

Horton Hears a Who craft from Meet the Dubiens

Thing One and Thing Two handprint paintings from Stuff by Ash.
Cat in the Hat and Thing One and Thing Two Finger Puppets from Craft Jr.

One Fish Two Fish Art Project from Deep Space Sparkle

Hop on Pop Twin Sheet Tutorial from ObSEUSSed

And lastly:
A round up of ideas to keep you busy for a long, long time from
Roots and Wings Co
Dr. Seuss letter writing printables from Missmernagh.com
Printables 1
Printables 2
Thanks for joining us all week! Now I'm off to rest my tired rhyming tongue (and hopefully my thoughts will stop rhyming soon too!).
Linking up to: